Meet Our Executive Director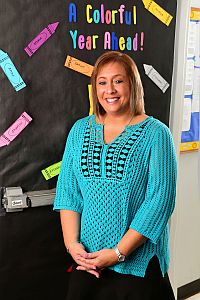 Libby King is the executive director of Westmoreland Children's Center. Graduating Pace University with a bachelor of arts double major in human relations and early childhood education and a minor in psychology, Ms. King began her career at WCC over thirty years ago. A strong advocate for early childhood education, she proved her leadership abilities in our classrooms before eventually becoming the site executive director of our Circle campus. After serving there for eleven years, Ms. King became WCC's executive director in June of 2012.
As executive director, Ms. King focuses on ensuring the needs of WCC families—whether educational, cultural, social, or financial—are met. She LOVES her job and daily draws inspiration from the children in our care. Ms. King never tires of a child's thrill of discovery and believes this thrill is the gateway to developing a lifelong love of learning and success. She is committed to ensuring that all children at WCC experience that thrill multiple times throughout their tenure with us.
Ms. King was born and raised in New York, but she moved to Maryland in the early 1990s. When not at WCC, Libby enjoys spending time with her family at the beach or pool and often travels "home" to New York to visit extended family and friends.
Libby in the News